Last week we detailed what this blog is all about and the big goal to reach $10 mil a year. I mentioned everything went horribly wrong in the early days (with previous companies). Let's take a proper look…
This is a prelude to what this blog is all about. I really want you to know my background before I get into what went right and continue that story.
"We have 48 hours to get all our stock out, or it's over."
This was 22nd December 2011. It meant me and my business partner had until the early hours of Christmas day to empty a 6,000 sq. ft warehouse into a new one, fast. We had to move around 5,000 units of stock, office equipment, racking and storage in time to continue trading, or it was all over.

As a two-man team that christmas, we didn't have the answer.
I was lost and so were our companies. We had no time. But, as we always do, we set out to do the impossible.
When something goes wrong that you've worked so hard for, it hurts. Badly. But things weren't always bad. We had some real good times.
The early days
In those days, I loved online retail. But it's changed.
You'd think that online retail is an easy market. I mean, how hard is it to set up an online shop, buy in stock and start selling, right?
Here's the thing. In the early days it's exactly that. Get the best shop, sell the best product, and get the most customers. This is my thing. I do it well. I do it fast and I get volume.
We spent a year setting up three operations (our first mistake, three is not the magic number!) in 2010.
We had three glorious companies that were ahead of the game, TapCentre.com, CompressYourself.com and EvolutionPools.co.uk.
TapCentre.com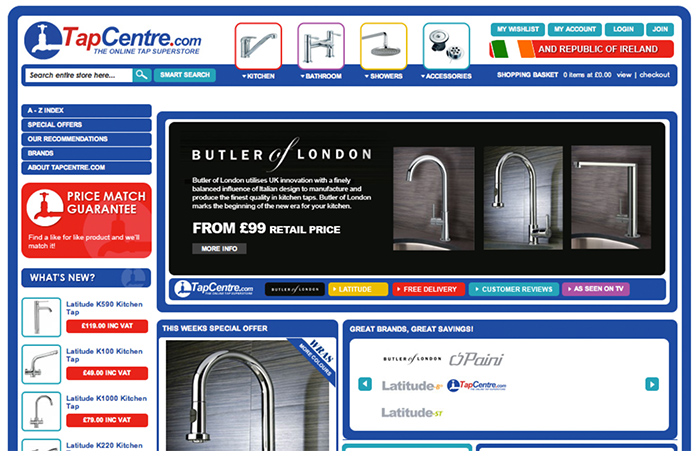 CompressYourself.com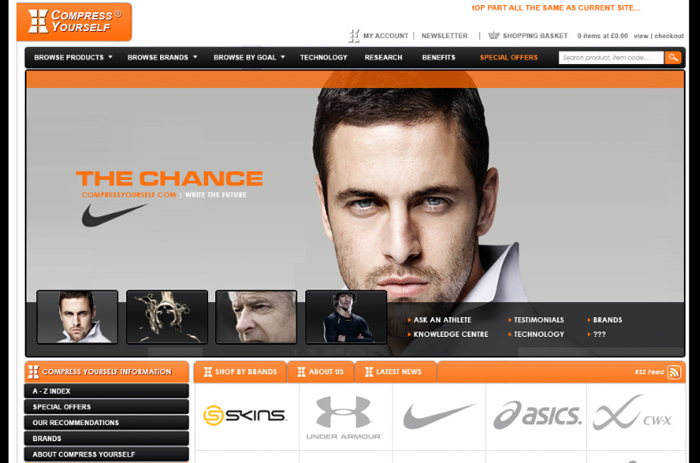 EvolutionPools.co.uk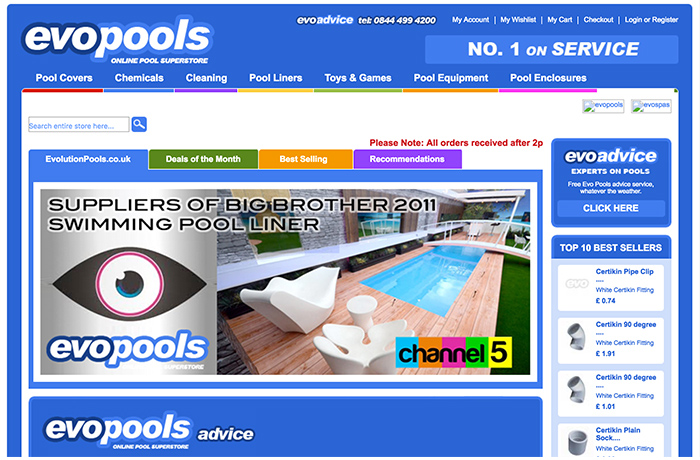 The good days
Soon after launch we found our feet. We were more aggressive than competition and we were everywhere.
We were selling up to 2,000 units per month @ TapCentre.com
We were selling 1,000 – 2,000 units per month @ CompressYourself.com
We were selling 500 – 1,000 units per month @ EvolutionPools.co.uk
We were on National T.V.
We were first to market on National T.V. at peak time and it worked incredibly well. It took us to another level.

We were the face of online Kitchen and Bathroom.
This exposed us nationally as leading the industry. We disrupted it back in 2010 and were changing the way the bought products. And were universally known for it. Here's the full feature in the National Kitchen, Bedroom and Bathroom Magazine.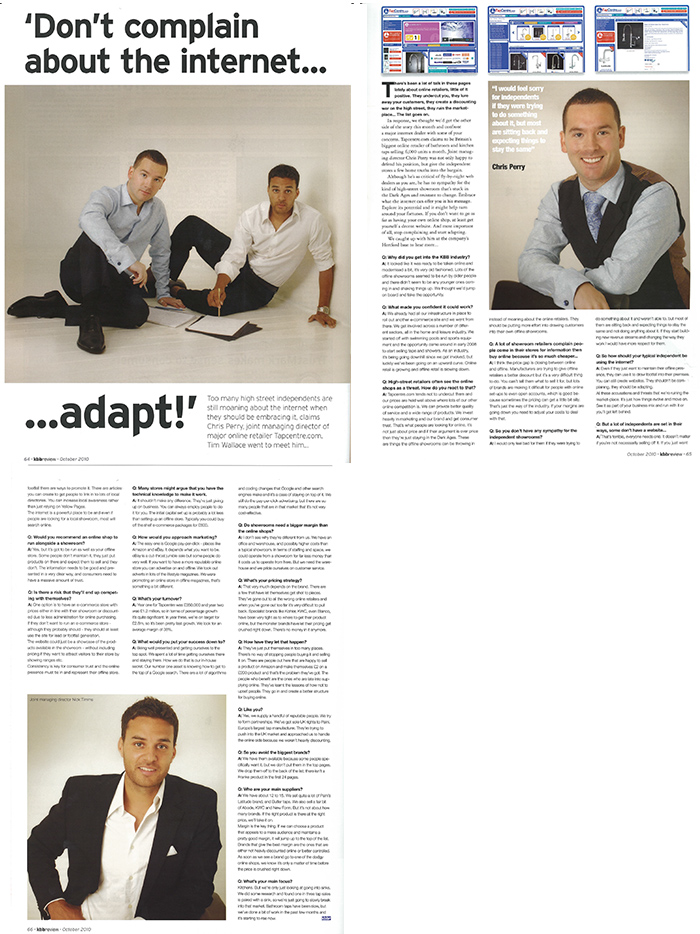 We dominated on Google. 
We were winning for 18 months, we held first position on Google ahead of Home Depot, B&Q and Wickes. This was big. Being #1 on Google for keyword 'kitchen taps' was generating us $60K monthly sales.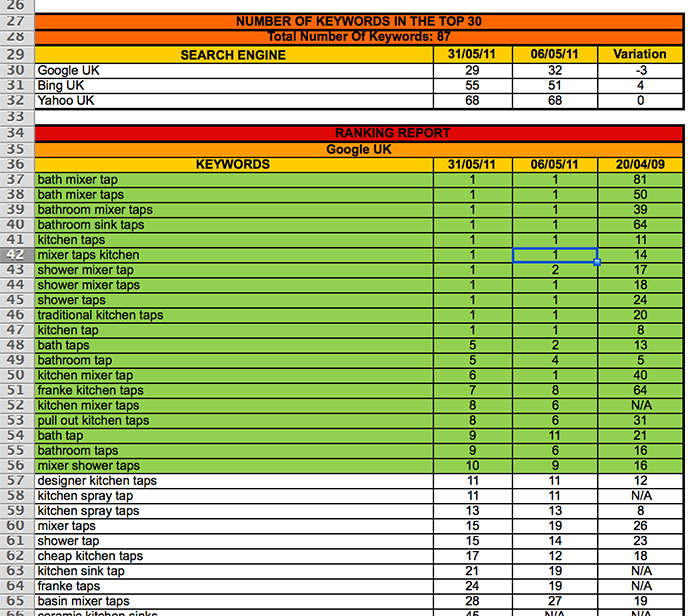 We owned our own brands.
Most companies sell established brands. It's what consumers think they want, and so it's what retailers will sell. It means retailers compete on price only. There's a magic that happens when you're the cheapest, everyone finds you (somehow) and it's easy to sell volume. Retailers were addicted to this like a drug. Drive down price, sell more volume, it was their only focus.
This is a war between retailers, and we weren't interested in competing. Instead, we worked hard to create our own brands (here's an example below for TapCentre.com). We sold directly, broke their model and disrupted the market. We changed our retail margins from ~ 24% to upwards of 76%. At the time, competitors could not compete. We had superior product, superior customer experience and superior profits.
We were selling 2,000 kitchen tap units a month and had 3x product margin; my mind was blown. Things were good, very good.
This is Butler of London, a brand owned by us and sold through our retail website TapCentre.com. It was game-changing for us.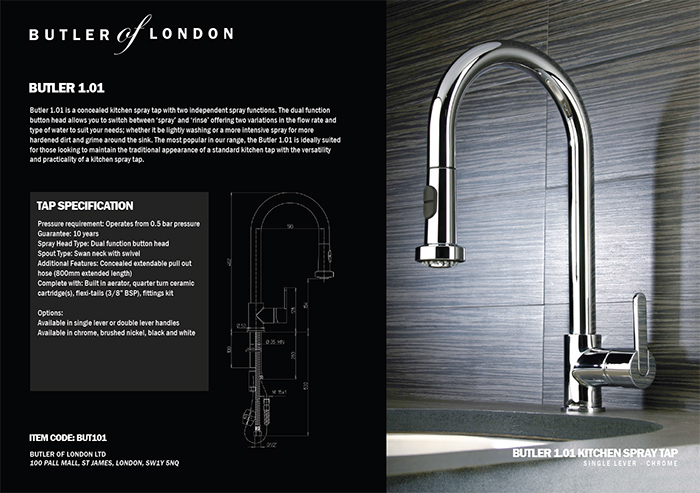 We had investment offers
Soon after our successes, and the explosion of sales I was approached with two large investments that would have been a hell of a boost for the 18 months of work we'd done. It would have given us leadership from ex-CEO of Dixon's Group, a wealth of management experience and a proper plan. But things did not go as planned.
This was the last of the good days.
We created a monster
On the face of things, we had created something beautiful.
We had bigger buying power than competition
We had exclusivity with largest suppliers and manufacturers
We had established marketing channels on T.V, Radio, Print and Online
We had 3x product margins to closest competitors
We owned 6,000 square ft warehousing
But really, we had created a monster. Ultimately we failed, and here's why.
The bad days
I'm great at sales and marketing. Give me something to grow and I'll do it. However this is the last positive thing I can say to finish this story. I failed in so many ways. It's my biggest lesson learnt so far in business. Here are the 7 reasons why we failed.
1. We grew too fast
$millions a year sounds sexy. We grew faster than I could handle. I was blinded by the shining lights of revenue only. Everything would appear amazing. Sales were record level and showing consistent growth.
It appears customers are buying more and more
It appears customers are buying more own product / higher profit items
It appears our supplier payments are within terms and up to date
It appears that we're utilizing our warehousing space efficiently
It appears that we're managing our tax and accounting affairs correctly
It appears that we have a credible team running the companies well.
You get it. Appearance means nothing. I consistently made the mistake of only using instinctive judgement to understand how we were doing. It was my first time. Naivety and blinding revenue had hold of me.
We were out of control and did not run the business, we only ever ran the sales and marketing. Instincts have their place but facts, well, are fact.
What I learned: My biggest mistake was operating blindly. We didn't plan, we didn't forecast, we didn't support our growth, we just sold. True business is controlling your bottom line. True business is planning and managing clear marketing channels so you know exactly how they perform. I've learnt to surround every part of my businesses with numbers. I've learnt to carefully test things and pre-plan how we measure these tests, and then scale them clearly. I've learnt I can't do it alone and need infrastructure to support growth.
2. We had no structure
I have only recently learned how to build accountable teams. I have only recently learned that I am not the best at everything and that there are people 10x better than me at certain things. I've only recently learned that a management structure is key to a scalable, robust business.
Because I've only recently learned this, these businesses were doomed from the start. We had no management structure for one of the companies, let-alone a structure for each.
We had no structured finance, sales, marketing, logistics, or customer service functions
We had no management or supervisory levels for teams
We had no financial plan or forecast our businesses
We diluted our teams across each of the businesses
We were bad at controlling stock levels because of how fast it was growing
When you're growing mega-fast. It's easy to assume things will work out because you have the cash to lean back on should things go wrong.
What I learned: Build a team fast. Build accountable people who are better than you in certain areas of the business. When you first build your team, they may not be as good as you and there may be a temporary decline in performance. But over time, they will excel. They will become dedicated, accountable and enthusiastic in their roles and they will overtake how well you were doing. When doing something new, I now jump into that role temporarily to get it started and then recruit as quickly as possible. This short time being operational, gives me enough insight on what needs to be done, how it needs to be done and who needs to do it. I am now consistent in jumping into new tasks and then recruiting to replace myself.
3. We were first-timers
I genuinely don't regret anything. It was the first real businesses I'd ran and I needed these mistakes to know never to do them again. But because I was learning as I go, we made monstrous mistakes that could be easily avoided.
What I learned: You must be a first-timer at some point, but you don't have to be alone. I whole-heartedly think that there's no better learning curve than doing things yourself but take guide. Find mentors, bring in non-execs. These people have been there and done it. They know what you're going through and will steer you through the unknown.
But have a guide to help you through the blind days.
4. We were arrogant
We thought we were leading the industry. We believed that no-one could catch up and overtake us and we believed that no-one could replicate how we achieved our successes.
We believed that big national retailers would not be adaptive and be able to compete with us online.
We believed that small niche online retailers would stay small and not know how to grow.
We believed that no-one could replicate our businesses.
We were wrong.
We led with sales and marketing and neglected all else. Over-confidence was our downfall.
What I learned: Stay humble, stay focused and never be complacent. Big retailers are slow to move but have traction. They can buy in agility. Small niche retailers can operate copy-cat models and if focused, can close the gaps quickly. You must always stay ahead and continue to innovate and grow.
5. We didn't focus
Finding one single success and focusing on it is key. Before we had achieved genuine success we would start looking at new opportunities. We diluted our focus too quickly. We expanded into too many product lines, we expanded retail operations in U.S, Ireland and Italy but we hadn't fully secured the U.K. market. We didn't focus on only a few key product lines to scale, and instead assumed scale (increased revenue) would happen by expanding our range. We expanded too fast without controlling our current business. We diluted our stock / logisitcs and we made it uncontrollable.
What I learned: When you're a startup, find the single thing that will allow you to scale and whole-heartedly focus on that, and that alone. Be aggressive and become the best at that particular thing. That may be a select product line, it may be a certain route to market that offers scale or it may be something entirely different. We had finite resources so looking back, the best thing we could have done as a team, is focus exclusively on securing our position selling certain products, via certain routes to market and ensure this was solid before we moved on.
6. We made horrible mistakes
We were cash-rich and blindly over-investing in marketing, accounting softwares, warehousing. We wasted $220K in one year on trialling marketing with zero ways to track how it performed.
We overspent on T.V. and Radio ~ $100K. We didn't track how this performed. We blindly threw money at it. 
We overspent on unnecessary Accounting Softwares ~ $60K. This was completely unnecessary and cost us dearly. Not just investment cost but consuming teams time on cumbersome accounting procedures for what should have been an agile business.
We overspent on warehousing ~ $60K. We over-invested in our logistics. 
What I learned: There should be no difference to how you control your bottom line when you're cash rich or when things are tight. This was our mistake. When you're a startup, keep your business light and agile all the times. It doesn't matter if you're generating mega-profits, still manage everything tightly and focus on profitability.
7. We were trying to run three companies at the same time
One of our biggest fails was trading three companies at the same time. If one company is potentially the most profitable, largest opportunity and biggest growth potential, why would you focus on other similar businesses and dilute your focus. This decision doesn't just impact the me, but impacted every single team member and every cost we had.
What I learned: Build structure and only move onto new opportunities within your business (or outside of your business) when it does not depend on you. Your goal is to build your company and positions within the company so that they do not rely on you. Work to make yourself redundant.
Final days
Ultimately we did some things incredibly well, but ultimately did more things incredibly badly. The companies were extremely profitable for a number of years and have put me in a good place but eventually tapered off because we did not run the businesses. We were blinded by ego, we pursued revenue (not profit) and we were young, inexperienced and excitable.
Back to the warehouse on 22nd December 2011. My business partner and I tirelessly worked for 48 hours to move all stock to a smaller warehouse. I finally fell asleep at 10pm on the 24th December and woke up 26th December 9am, completely missing Christmas day.
Over the following few months, CompressYourself.com and Evolution Pools were sold to competitors and TapCentre.com continued selling kitchen taps for another 18 months.
What now?
Here's my SaaS products. We've got a great team working hard to make these even more awesome and I'm sharing the entire journey along the way.
Whoisvisiting – Identify B2B visitors on your website.
Found.ly – Sales prospecting tool made simple and in scale.
ReplyUp – Super-simple Gmail plugin for automated, personalized email followups.
Any questions or comments, give me a nudge and I'll be there to answer them.
We'll be releasing a new post each week on Startup Life. To get each post as soon as I write it, sign up to the $10 mil mailing list.
And next time, we're sharing our journey from buying Whoisvisiting for £25K and turning into into a $1mil a year business.
In the next few days I'll be sharing how we transformed Whoisvisiting into a $1mil a year recurring revenue business.
You'll learn:
– How we started the company and grew it from two paying customers to thousands
– How we're scaling our business organically
– Why 2017's the big year for us
Have more questions? Get them answered in the comments below, message me on LinkedIn or Twitter.